Specimen Containers, Universals, Dippers and Primary Sample Tubes
View a range of containers available from International Scientific Supplies Limited. These include 30ml universal containers, urine containers, specimen containers, histology jars, water sampling bottles, blue polypropylene containers, milk sample vials, dippers and 24-hour urine containers.
A Massive Selection of Specimen Containers from ISS
Our selection is simply massive! With all of our specimen containers expect the following:
Aseptically produced
Stringent quality control and leak testing to comply with ISO 6717:2021
CE marked in accordance with (EU) 2017/746 2017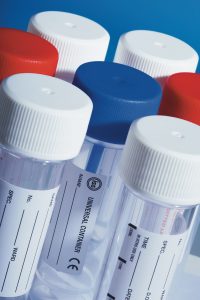 A range of 30ml universal containers with leak-proof screw caps as well as conical bases:
A range of 5ml to 10ml urine containers, all made from Polystyrene:
A range of specimen containers from 60ml to 250ml with a variety of caps. Ask us if you need an alternative container to the ones listed below:
A range of polystyrene histology jars between 30ml and 350ml in capacity with/without a label and with/without gamma irradiation:
Featuring a tamper-proof cap, these water sampling bottles are available in 28mm (round) or 34mm caps (square). All are Gamma irradiated and there is an option to add Sodium Thiosulphate (which inhibits Chlorine, Bromine and Ozone dissolved in water).
Specifically designed for the food and dairy industry these blue polypropylene containers are specified:
Polypropylene milk sample vials (clear or blue). The 35ml vial has "do not drink" moulded into each cap. Here are the details:
Snap Cap Milk Vial. Tube and White Polyethylene Cap Assembled (35ml)
Dippers for use in the food and dairy industry, with some featuring removable handles:
Polyethylene jerry cans featuring integral handles and leak-resistant screw caps. With three sizes, these urine containers have the option of with or without a label:
24 hour urine container without a label – UR2413 (1 litre), UR2404 (2.5 litres) and UR2405 (5 litres)
Buy Specimen Containers, Universals and Primary Tubes from ISS
ISS have a large selection of specimen containers, universals, dippers and primary sample tubes for sale. We know the choice can potentially be bewildering, so do not hesitate to call us for guidance and advice on 44 (0) 1274 720070. We can also be emailed at sales@intscientific.com.
We list a large number of products here but may also be able to offer other custom solutions if needed. Do not hesitate to make contact if you need to!